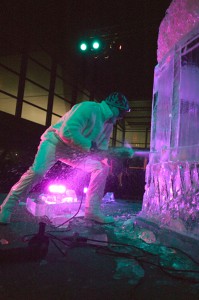 Ice is dynamic. It's the perfect medium, unique and mesmerizing. It is one of the only mediums that really lends itself to new – now- next experiential lifestyle.
That is why Fear No Ice is in the sweet spot of the new normal to drive awareness, followers and influencers to a brand or business.
Fear No Ice has finally transcended event and promotional marketing to advertising that is social media worthy.
Measuring success in this current market place seems to be controlled by marketers who are desperate for ideas and opportunities that will get their message delivered in a way that is inclined to be clicked on and forwarded by their target consumers. Fear No Ice has longevity and credibility. A clear leader for over two decades in helping clients with advertising, brand recognition and now with social media, instagram, and influencers getting their message out through our interactive ice experience.
As a promotional marketing, advertising vehicle and entertainment entity, Fear No Ice has a long history in the media as well as having appeared on over 50 TV programs including the "Rachel Ray Show", "Paula Deen Show", "Regis and Kathy Lee", "Sunday Morning" with Charles Kuralt, "Ordinary/Extraordinary", Ripley's Believe It or Not", "David Letterman Show" the Food Network, and more.
Vimeography Error: a Vimeography gallery with an ID of "1" was not found.