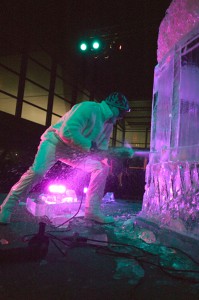 Fear No Ice is the world's first and only performance ice sculpting company.
Since 1997 Fear No Ice is an entertainment entity that will keep your guests on the edge of their seats. A combination of action adventure, slapstick, drama and audience participation, Fear No Ice offers an experience which will not soon be forgotten.
As a promotional marketing vehicle and entertainment entity, Fear No Ice works with international companies to provide unique options for entertainment, product launches, set designs, ice lounges, and more.
Contact us today for more information on how Fear No Ice can bring the next level of entertainment to your events. Join in the experience of fresh, frozen and alive!